35 is the year of solitude.
Work
A full year working for myself
in my Yishun home
releasing 2 new apps
updating many others
from old Objective-C to shiny Swift code
My Money is one of the new app
my very first macOS app
replacing my personal finance spreadsheet
Life
Started a spreadsheet to record how many days I have left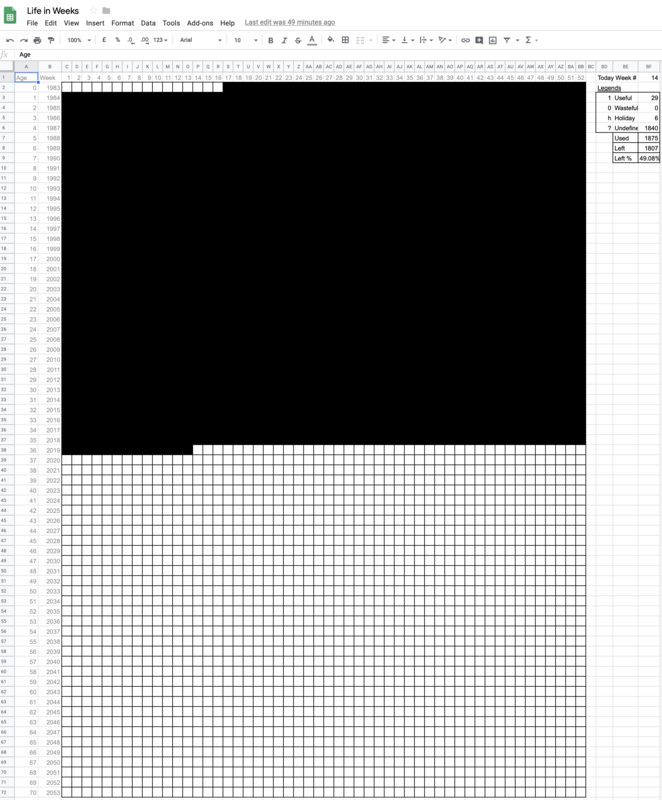 Assuming I am dead at 70 years old, I have 50% of my days left to go (but I truly believe our average life expectancy will be much higher).
Isn't little, isn't much either.
Chester and Avicii had gone so young.
My best friend too.
Average 1 run a week
wield lightsaber some mornings
cycle almost every afternoon for lunch
kind of in my best shape yet poorest IPPT result ever
Sometimes results doesn't match your effort
it is perfectly okay
Kate
A 3 year old monkey that dance
knows her ABC and 123
and will only sleep after 5 stories
I have to play terror often
while inside I am actually LOL
Books
Read more fiction books than ever
Seveneves
Brave New World
Animal Farm
Bad Blood
Naoko, Malice, Salvation of a Saint by Keigo Higashino
Non-fictional includes
The Subtle Art of Not Giving a Fuck
Mastery
Magic of Tidying
Homo Deus, 21 lessons for 21s century by Yuval Noah Harari
---