The safety briefing in 2019 is unprecedented, most likely due to the Aloysius incident.
The warrant officer took 10 minutes to emphasize many safety points, including asking you not to chiong.
It is okay to fail.
No one can charge you if you fail. Your attendance is all that matters.
You're NSmen. You have your work. You have no time to exercise regularly. So don't over stretch yourself.
If you are 5 points short to gold, you think so can beat the 2.4km run? 5 points is 50 seconds leh. Not easy at all.
Is $500 gold incentive a lot? It is not.
I was silently laughing.
In my 10 years taking IPPT as an NSmen, I have never heard of such extreme demotivating speech. It totally lacks "do your best", "you can do it", or "go for gold".
I am not debating it is good or bad.
But the change is real.
Machine counting push-up sucks
Onto another subject..
I hate the new ELISS system using machine to count our push-up. This is a new system operated by machine, introduced in 2018. Before 2018, it was manually counted by a human buddy.. And even way earlier, it was pull-up, and using machine to count, which is much more accurate.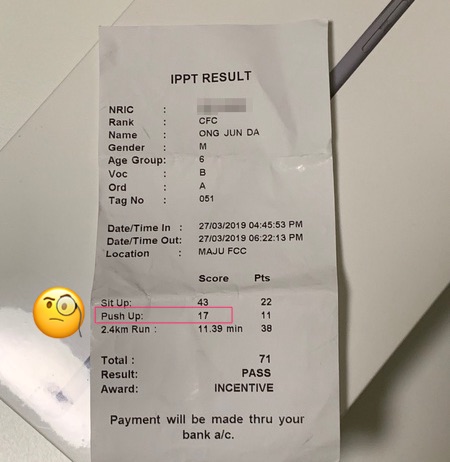 I had only 17 push-up counted..
I should have researched on how to "play well with this machine". Apparently, it seems like your first push up will be the "standard", and subsequent ones have to be at least that standard.
So, one should not do too good on your first push up. Spread your hands wider, so that you when you are up, their height is registered to be lower. After the first, slowly move your hands inwards, to your shoulder width.
As a programmer, I believe detecting push-ups will be the hardest, compared the sit-ups, pull-ups or the legacy shuttle run and standing board jump.
The current ELISS machine takes into account many parameters such as straighten back up, and down, and who-knows-what. I think it is too complicated, therefore many no count.
The indicators (LED and vibration) and the sound telling you what is wrong is useless. It lags. And with many machines simultaneously sounding around you, you can't hear well.
Shrug. I gonna MR soon so this is not so much of my problem :D
---