It has been 2 weeks since I joined Antler. This post is my thoughts on playing this Venture Capitalist (VC) game.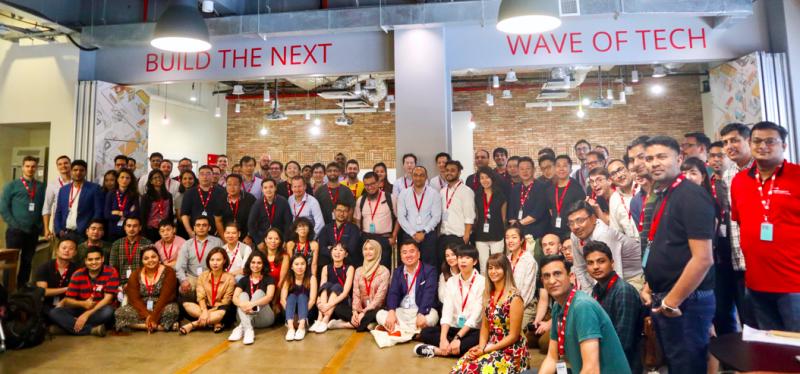 Bootcamps with 100 entrepreneurs
It was a hectic 2 weeks with 100 entrepreneurs, made up of 50% tech people, 50% business people.
Every 2 days we have bootcamps, where teams of 4 will ideate, create business plan, and present in 3 min with short pitch deck.
While it can get uncomfortable, it could be my most memorable group work, with such diverse background.
In the middle of bootcamp #2, I was asking:
what have I signed up for
whose's brilliant idea it is to put 4 entrepreneurs/extroverts in 1 group
Ultimately, it was a truly unforgettable experience, and I'm grateful.
Talking about ideas
We were packed in the same space, constantly introducing ourselves, and always talking about ideas.
Ideas are cheap.
Yet many are married to their own ideas.
I went prepared with a few ideas, but I threw them away shortly after learning about the VC business.
It is less about the idea, but more on the team – why you are the right team to execute the idea?
VC-backable business
There were also good talks on venture capital (VC) business, and what they look for.
I realized there are 2 kinds of business:
Good cash flow business
VC-backable business
(1) is usually small, possible to bootstrap, eg. running a bubble tea kiosk, ecommerce shop, or my hobby apps.
(2) has to be BIG, with the goal to become a unicorn (worth $1 billion).
For a VC to invest, there are some criteria:
Large market size of at least $2B
Revenue of $100M (5% of market)
Therefore exit at $1B (10x revenue)
Scalable by tech
VC understand it is a number game, and 80% of startups will fail & die. The remaining 20% will hopefully exit at $1B.
The product need not be innovative. You may even sell ice cream (a proven product) on a busy beach (market), as long as there's a clear path to reach $1B valuation.
Oh, and they won't like you to be profitable.
The value of a VC
Let's assume an idea fits the product-market criteria, and is (2), a VC-backable business.
Why would founders choose the VC route instead of bootstrapping?
Other than the initial capital VC provides, here are other reasons:
open doors to partners & businesses
have a stake to help raise the next round of funding
provides ecosystem of entrepreneurs to help in product validation, learning how to scale, etc
Antler is not only a VC, but is also an incubator of sort. They match-make founders, guide them from day 0, and fund them pre-seed. They have a valuable ecosystem.
When I decided to join Antler, it was for this ecosystem and the opportunity to meet other entrepreneurs.
From another perspective, if I am not going the VC route, then I should ask:
Can I be be successful without them? What is my definition of success?
The value of 2 co-founders
Another criteria Antler has is that we must have co-founder to work together. They discourage solo founder, yet didn't rule out the possibility.
There is good reason for having 2 or more co-founders.
With 2 founders, they keep each other in check.
I work solo for the last 2 years, and one issue is that I have no one to report to, and so no discipline needed. Yet, I have to say giving myself slack is comfortable, with more freedom to explore.
Tech + Biz
VC also want complementary skills, so 1 tech + 1 business founder is preferred. I am labeled as a tech guy. So I question:
What exactly can a business guy do for a startup?
The typical business guy is someone who communicates well, not afraid to do sales, good at pitch, smart with numbers. They will be CEO.
The typical tech guy is someone who knows software engineering process, can design the architecture, create the first version. They will be CTO.
I struggle with typical labels on people.
It's all about the money
Firstly, money is not evil. On the contrary, it is one of our greatest invention. Money is the only trust system that can bridge between anything.
VC gives money based on faith, and expects to get even more back. Fair.
They are also managing the fund for others, and they will need to manage it appropriately. The simple rule is: make 100 times the money we have invested.
What if a product has social impact, but no commercial value? The answer is simply – that's not the kind of deal VC will do.
In short, taking VC money means you have to consider money, because VC own the business too.
My thoughts
While the 2 weeks experience is nothing extraordinary (I've always known about the VC game from DHH tweets), I've now experience it first hand, with 100 entrepreneurs, and real VCs.
In fact, I have learnt some from 10 years ago, when I joined my first startup, watching my CEO pitching to angels and VCs. I pitched too.
These learnings are now reinforced.
I am still at a struggle.
Would I be happy to run a VC-backed business?
Could the idea be one I have passion to work on?
Could the founding team be enjoyable to work with?
---