I wrote about our Reserves in 2020. Recently, CNA has produced a documentary, featuring Lee Hsien Loong & Lawrence Wong, and even filmed in the secret gold vault! 🔑
It's worth watching the CNA documentary.
And you've got to watch how it started in 1984 by Lee Kuan Yew:
What constituents our Reserves?
We often heard our Reserves is managed by 3 key financial institutions: MAS, GIC and Temasek.
There are 2 others:
Housing and Development Board (HDB)
Jurong Town Corporation (JTC)
This is because HDB & JTC hold a very important resource – our land!
Land as our Reserves
When a land is sold, the proceeds goes into the reserves for investment, and the returns are spent through the NIR framework (see later).
When land is converted into a financial asset, the financial asset remains part of Past Reserves and cannot be used for expenditure. Spending the proceeds from selling land is simply akin to using up more of the reserves.
Instead, the Government invests the land sales proceeds with the rest of the reserves, and spends up to 50% of the returns through the NIR framework.
When the land lease expired, it is returned to the government, and it can be sold again 😂
NIR Framework
Under the Net Investment Returns (NIR) framework, the Government can spend up to 50% of the long-term expected real returns (including capital gains) on the relevant assets.
As PM Lee explained, the 50% of Investment Returns Contribution (NIRC) is S$22b in 2022.
That S$22b accounted for one-fifth of government revenues!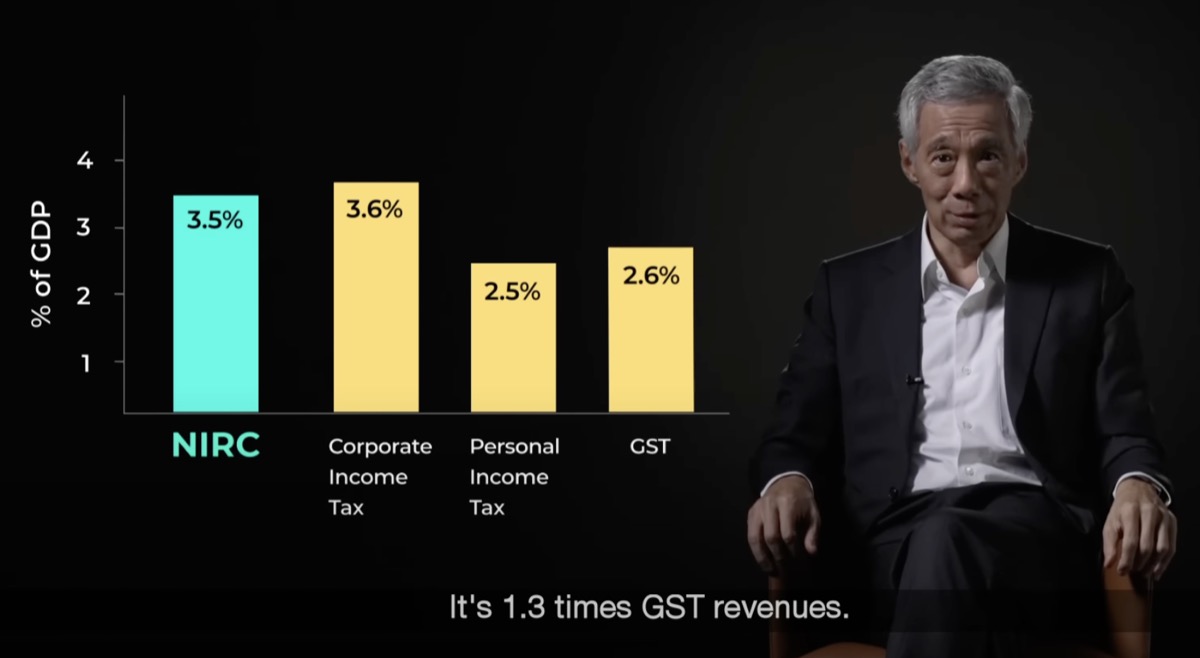 Without NIRC, the government would've to collect more taxes etc 😮
So how much is the Reserves?
As explained earlier, HDB and JTC holds a lot of land, but they are not directly part of the assets.
Only the 3 financial institutions holds the assets. As of Aug 2023:
MAS has S$452b
Temasek has S$382b
GIC has estimated S$1,042b
The GIC assets is estimated by Global SWF, because GIC never reveal the actual amount. Assuming their model is right, the total assets will be S$1,876b.
But there are liabilities that need to be accounted for, namely:
CPF owned S$556b
SGS owned S$160b
The known total liabilities will be S$716b.
So AFAIK the net asset will be S$1,160b.
That's 1 trillion in our Reserves.
---