Temasek and me have a lot in common. Our fate is intertwined. We are both invested in:
While I am a 🦐 and they are a 🐳, it is important to know how they work with their monies, and Singapore's monies.
Who are Temasek shareholders?
Temasek's sole shareholder is the Singapore Minister for Finance.
The Minister for Finance is a body corporate.
It is important to know who's the boss.
Minister for Finance (the boss)
Turns out, the boss "owns" 3 key financial institutions in Singapore:
MAS
GIC
Temasek
They are separate entities with distinct roles and mandates, and distinct management teams.
The 3 of them contributes to Singapore reserves.
How big is Singapore Reserves?
GIC does not publish exactly how much it manages, while MAS and Temasek do.
From MOF in 2019:
MAS manages S$401 billion
Temasek's portfolio is S$313 billion
GIC manages well over US$100 billion
Assuming GIC manages only US$100 billion, our total reserves is at least S$850 billion.
Their Investment Mandates
All 3 have their distinct roles and mandates set forth by the boss.
MAS acts as the central bank. They manages our foreign reserves (foreign currencies). Unlike US, Singapore does not control interest rate. Instead, MAS manipulates the exchange rate bands with the foreign currencies that it holds.
Temasek is an investment holding company since the early years of Singapore's independence, investing on a commercial basis. They invest in big companies like Sembcorp, global ones like Alibaba, and startups like ShopBack.
GIC manages our reserves, past and current. They are also the one who indirectly use our CPF money.
Temasek DNA
An extract from their annual report: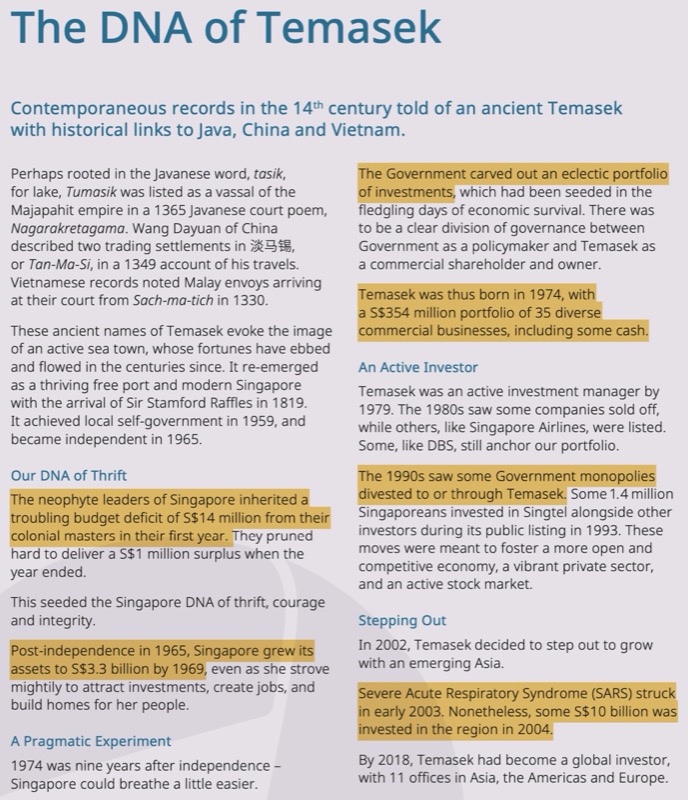 They have grew from S$354m to S$313b (b as in BILLION), that is nearly 1,000x in 50 years. To be clear, I never say it is impressive, considering inflation and compounding interest.
More about reserves
For more info, refer to my friend on seedly:
Current Reserves: Reset to zero when elect a new government
Past Reserves: Total accumulated before Current Reserves
Drawing on past reserves require approval from the President, aka gate keeper
Reserves = Assets - Liabilities
CPF is under liabilities, and NOT part of reserves
Like "Equity", reserves can be in the form of "cash, bonds, land, etc"
Each new government starts their current reserves from zero.
After the coming election in 2020 July, a new government will be formed, and the book keeping will be reset.
---