My investment journey started in 2008 when I realized that the Investment Linked Policy (ILP) I bought is a bad mix of investment + insurance.
I promptly discontinued the insurance policy and bought unit trusts directly from Fundsupermart instead. A self service investment platform is godsend for me.
I had been a fan of Fundsupermart ever since.
Introducing Platform Fee
Then the product changed. The business model changed.
When I signed up in 2008, my expectation was this:
I can pay a one-time sales charge of 1%, but I do not expect to pay anything else.
They broke the "promise".
Since 2010, they started charging a platform fee every quarter, at 0.4% year. So if you invest $100,000, they charge you $400 every year.
Why would they charge more?
There are 2 reasons:
They simplified the business model.

They provide investment adviser, which I suppose attributed to their "higher cost".
A simplified business model is good. With a "quarterly subscription fee", they did provide other free features eg. No sales charge and free unlimited switching of funds.
What I dislike is with (2), with their so called "investment adviser".
Once I tried to make use of my adviser, whom I arranged to meet so that I can understand more about buying of bonds (which at that time is their new product).
I took my time to visit their office, but my adviser spent 15 minutes before rushing off, even though we have a 1 hour appointment!
This incident triggered my decision to switch to POEMS.
Case in point: If you claim that you offer a certain premium service, then you better live up to it.
Switching to POEMS
I switched to POEMS.
Their selling point is Zero Platform Fee compared to player F - we all know who they refering to.
The biggest problem with POEMS is that they are a much uglier website.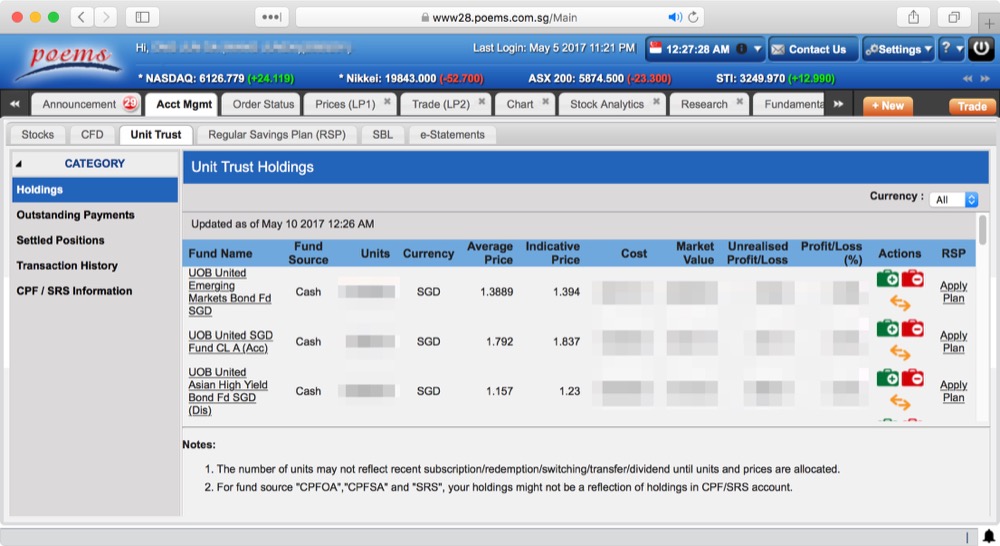 Probably the ugliest 2.0 website in Singapore.
POEMS Fees
Their unit trust has ZERO fees. No sales charge, free to switch, and of course no platform fees.
Seems like their strategy is to attract more users, who could buy other products.
For stock on SGX, they charge a minimum of $10 commission, or 0.12% of trading value.
For stock in US, they charge a flat $20 USD commision.
This is another example of not being loyal to any platform. I moved from DBS Vickers to Standard Chartered, whom used to have no minimum commission, to now POEMS.
If a service is not competitive or not providing good value, users will bait out.
---