We had many questions before we board our 1st cruise. We had to do lots of research pre-boarding, and figuring out more while on the cruise. This post is to share 14 tips!
Our cruise is onboard Spectrum of the Seas, a 4D3N trip from Singapore to Penang, during the March school holidays.
1. Book early to save $$
We booked 8 months in advanced, for a Ocean View Balcony midship stateroom. This is the fare breakdown for 2 adults + 2 kids:

Total: $1,634 (SGD)
They often have promotion where "kids travel for free". But there is still $124 for tax and service charge.
It worked out to be $550 per night, which is quite value-for-money for a hotel-like staycation.
All meals are taken care of, and there are plenty of activities and great shows every night.
2. Shows are must-go
We watched every show, and they are all top notch quality. Such productions can easily cost $100 per ticket, thus making this activity a must-go. The kids enjoyed too!
Showgirl! Past. Present. Future.
Headliner Showtime Starring Zlwin Chew (magic show)
The Effectors
The Silk Road
It is all free sitting, so if you arrive early, you can grab better seats.
One exception is The Silk Road, which is performed in Two70, with probably smaller capacity. Reservation will guarantee you a seat. HOWEVER, it is very difficult to reserve one.
To make things worse, their website and app is misleading! Pre-boarding, they listed the show as "SOLD OUT". So I thought I missed the time to book.
But nope, reservation opens only after you check-in. Right after we checked-in (at Marina Bay Cruise Center), we can reserve via the app. But by then, there were only 2 tickets available..
Anyway, we brought our elder daughter along, and I asked at the door if it is okay to +1. They are okay, and scanned her SeaPass as a walk-in 😁
What if you can't reserve? Fear not. With reservation, guests have to enter 15 minutes before the show. Thereafter, they allow everyone to walk-in. You have to queue, but everyone should be able to enter. At worse, you may stand and watch.
3. Check-in early
That said, check-in early is best. Then reserve The Silk Road show so that you can get good seats, and avoid walk-in queue.
While you may have selected your boarding time, and they warned you can't check-in earlier than the allocated time, yet they don't enforce at all!
We went at our allocated time at 12 noon, but yet we have to wait quite a bit before we can check-in and go through immigration. I suspect many boarded early. When we reach Windjammer for lunch, it was so full.
Now that I had went through a slow embarkation, I will consider The Key for a better boarding experience and more.
4. SeaPass Card
What is SeaPass? It is a card for every cruise passenger. You will find it at your stateroom door. You will need it to unlock your door, and for for any other onboard chargeable items, including arcade and drinks.
At the end of the trip, it will all be charged to your linked credit card.
5. Main Dining
This is the largest dining place, where complimentary breakfast, lunch and dinner will be served.
Unfortunately, the food quality is not that excellent. I was disappointed after a dinner & a breakfast, and we didn't go again thereafter.
You will also be seated at the same table every time, together with your party members. How to form a party? When you book your trip, everyone is grouped in the same party. But if your booking is separate, then you need to let your booking agency know.
6. Windjammer & Pizza
On the other hand, the buffet provided by Windjamer is better. At least you get to see and choose what you like, any time.
The Sorrento pizza is surprisingly good too (just beside Windjammer).
7. Specialty Restaurants
The complimentary restaurants are average. If you want to indulge in dining, then you need to pay for these restaurants. We booked Taste of Royal for $47/pax.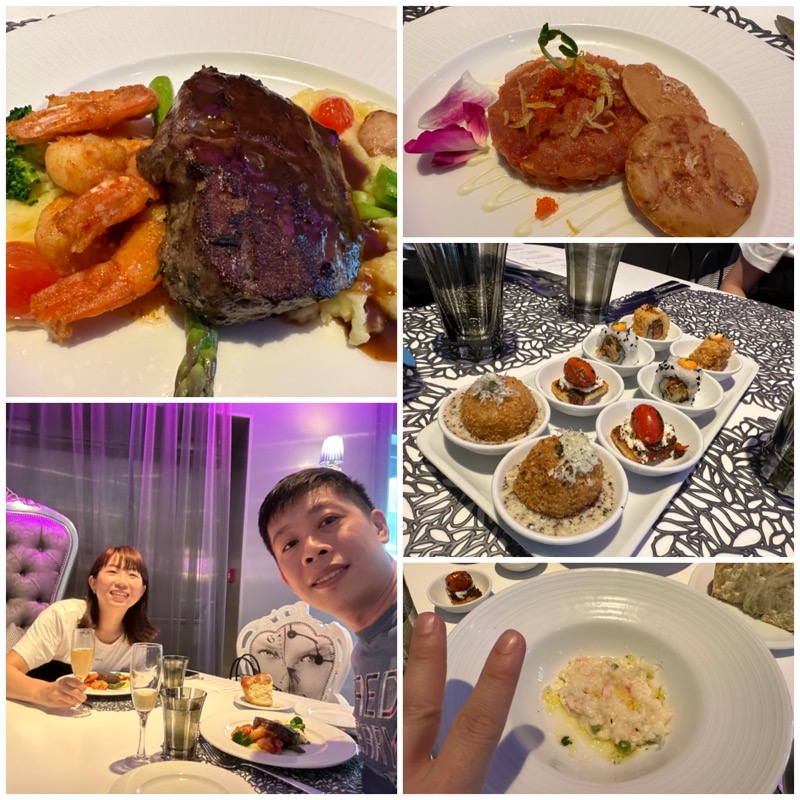 It is refreshing, compared to the chaotic complimentary restaurants.
8. Water
You can bring bottled water. Otherwise, you can refill in the dining areas. You can buy more when you are at the port too.
Purchasing bottled water on the cruise will be expensive.
9. Internet
Their VOOM surf package is $27 per day per device! I didn't subscribe and don't think it's worth it. Just disconnect for a few days.
The truth is, you can still use your mobile data at the ports. So you're effectively only disconnected for a short period.
10. The App
As an iPhone app developer, their Royal app has a not-so-good user experience. There are quite a few things I am disappointed with:
Party members: As mentioned earlier, you can link friends and family members, but they are not in the same main dining table by default
Chat: The app provides a messaging feature so that you can add anyone on the cruise. But by design, people can't search for you unless you enable.. And they don't add party members by default 🤨
Hard to navigate events, find the timings
Misleading info
11. Cruise Compass
To know what's going on every day, the better tool to use is the PDF they provide. Though you have to scan the QR code and open every day. This is for my cruise, for your reference:
I just couldn't understand why they don't provide the PDF pre-boarding, and for all the 3 days at once.
12. What to do?
There are many activities, mostly geared for children and teenagers.
Bumper Cars
Rock Climbing
Archery
Arcade ($2 USD per game)
North Star ($20 USD)
Sky Pad ($5 USD)
Queue can be 1hr long for the very popular Bumper Cars! Rock Climbing at times will have shorter queue. So you have to plan carefully.
There are also pools, water slides, soccer & basketball (the same court when bumper cars are not operating).
What about older folks? Hmm.. there is casino and karaoke. Refer to the Cruise Compass (above) on all the things going on every day, and decide what you can do. But I do conclude Royal Caribbean is more tailored to family with children.
Adults might dislike the number of children at the pool. If so, there is Solarium which is exclusively for adults – a quiet place to chill in.
13. Port Call @ Penang
We can disembark at 3pm at Penang. Disembarkation turns out to be super fast for Malaysia. That's because you only need your SeaPass to tap and go – no immigration!
We planned for a short trip to Love Lane and Chulia Street for some Penang street food. I shall not go into detail how I overpaid for a driver at the port.. Tip: You can book using Grab at no more than $5.
14. The Stateroom
Our room is on level 12, midship, with balcony view. It is not big, but decent.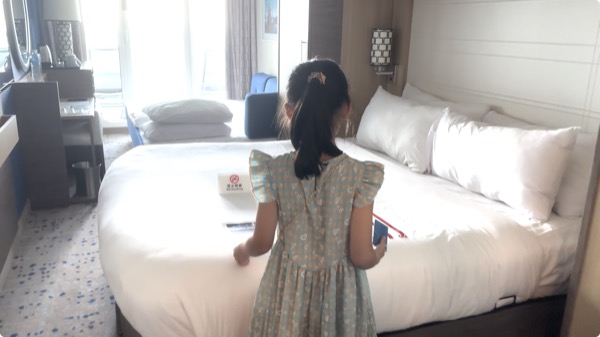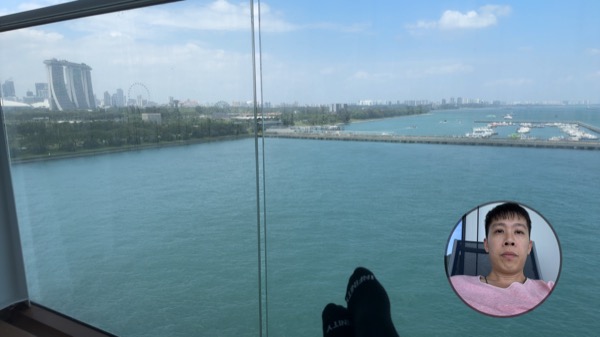 If I will to choose again, perhaps choose nearer to the elevator. It is quite a walk to either side midship, and the evelvators are slow.
The cruise is very stable, but it does shake a tiny bit. Eg. The hangers in the wardrobe could move and create eerie creaking sounds.. My mum was scared for the whole night.. till I told her it was just the hangers 😅
Conclusion
It's a great travel experience. If we were to go for cruise again, I know better what to expect, and how to plan. You can find past Cruise Compass.
Of course, book early to secure a much better price.
---