I sold my HDB, and I avoided paying 2% to property agent, by doing-it-yourself.
My HDB sells for $500,000, so 2% is $10,000 saved!
If you have been thinking to save on that commission, it is definitely doable. You would have the fear of the unknown, but there's really nothing much to worry.
This post will discuss my experience and the steps involved as a seller.
Why need an agent?
Firstly, you should know when you would want to hire a property agent. The key values of an agent are:
Marketing on propertyguru/99.co to attract potential buyers
Bring potential buyers on house tour
Guiding seller along the sale process
I don't need an agent simply because I sold my HDB to my brother :) Hence I don't need to find and pitch to potential buyers.
But you can definitely still DIY (1) and (2). You can own self post to property portals or classified!
The sale process might be daunting, but after researching and going through the actual process, I would say it is pretty okay.
Overview of the resale process
Register on HDB resale portal
Issue OTP
Buyer to exercise OTP
Engage law firm
Submit resale application
Pre-completion checklist
HDB completion appointment
In total, it takes about 8 weeks.
The process for buyer is similar. Here's a nice overview provided by HDB.
We will go in-depth on the key steps and what to take note of. You might also want to read the official lengthy HDB guide and their FAQ.
1. Register on HDB Resale portal
The HDB portal is very important, yet hard to find. Bookmark it: https://services2.hdb.gov.sg/webapp/BB31AWDashboardWeb/BB31PLogin.jsp
Register your intent to sell.
Download and print their prescribed Option to Purchase (OTP), which is a legal contract to use with the buyer.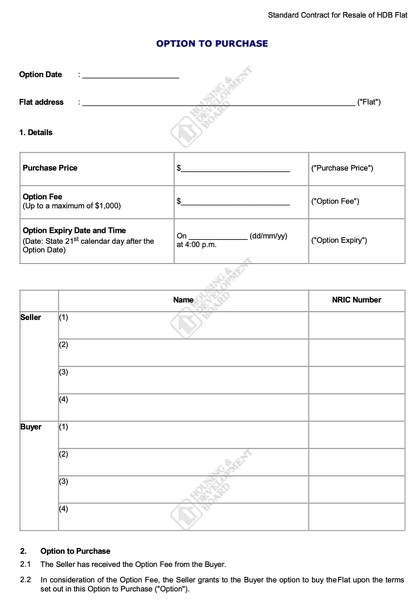 One surprise is that within 7 days of registering, you cannot offer the OPT. No idea why there's a cooling period.
2a. Issue OTP
Once the buyer confirm to buy, you can issue the OTP, and collect the Option Fee. The recommendation is $1,000. It can be $1, but not any lower!
You will also need to note down the subsequent Exercise Fee. The recommendation is $4,000. Similarly, it can be $1, but not any lower. Read section 3 on exercising the OTP.
You also cannot grant another OTP within 21 days. Because the buyer now has the rights to buy the HDB before the exercise date. If he doesn't exercise, you get to keep the option fee.
If he does exercise, you must sell. It is a binding contract.
2b. Purchase Price
One thing to advise on the purchase price.
Sellers and buyers must declare to HDB the true resale price of the flat. They must not enter into any supplementary or other agreements or arrangements that may cause the resale price as declared to be inflated or understated.
Since I am selling to my brother, it did cross my mind if I can sell him for $1. Of course not! We base it on SRX's X-value.
After buyer exercise the OTP, HDB will do a "valuation" (without going to your house). They don't give a specific valuation. Instead, they simply check if your stated purchase price is within their range.
3. Exercise the option
Prior to exercising, buyer has to get a bank mortgage and accept the letter of offer.
Then buyer will exercise the option by signing the OTP acceptance portion, and pay the exercise fee in cash to you.
4. Engage a law firm
Both buyer and seller will have to engage their own law firm for conveyancing.
In law, conveyancing is the transfer of legal title of real property from one person to another.
Buyer and seller also cannot use the same law firm to represent them.
Conveyancing lawyers have their panel of banks that they can serve. So you have to check if they play well with your bank first.
These are the 2 that my brother and I use:
PKWA
Chiu Cheong LLC
I highly recommend PKWA – big, organized, cheap, and they serve Standard Chartered. I use PKWA subsequently when I purchase my condo.
You can ask your law firm on any clarifications that you might have. While you don't have a property agent to advise on the process, you do have the even more capable lawyers to serve you.
Make use of them! Ask them anything!
5. Submit resale application
Both buyer and seller must submit to HDB resale portal, within 7 days of both parties, providing quite many details.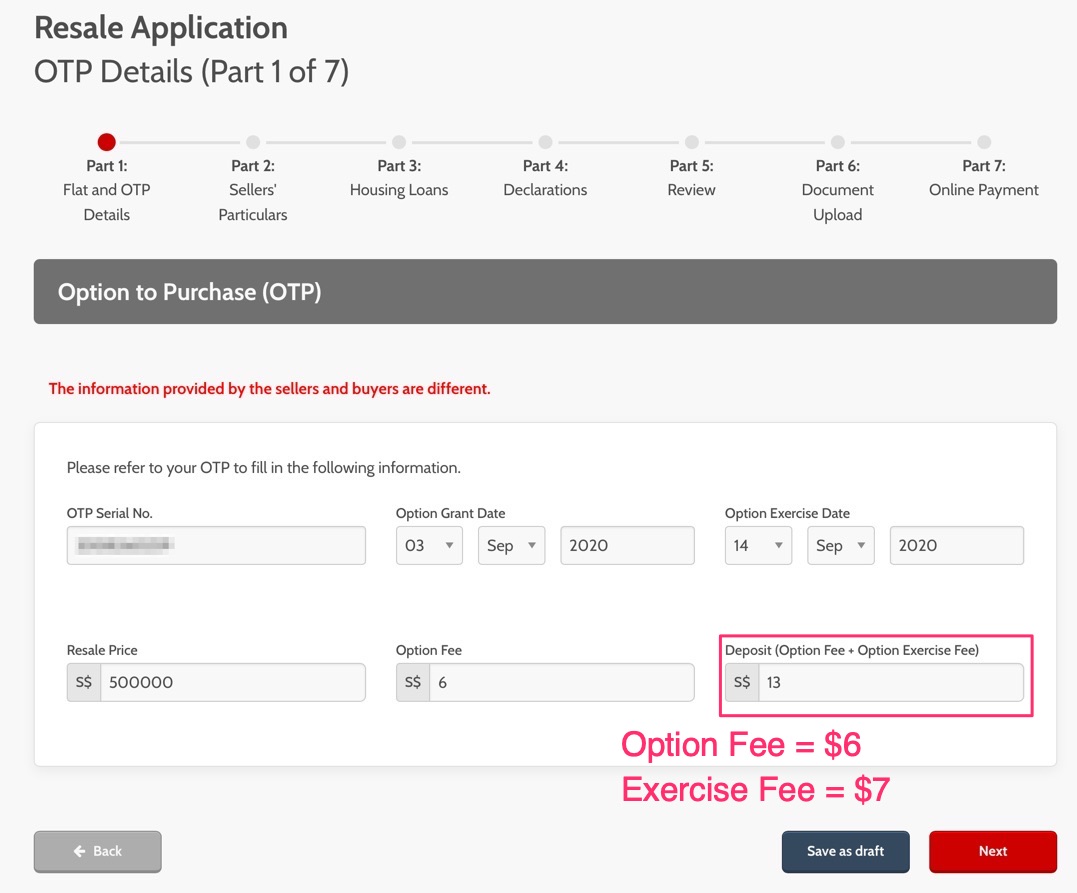 Finally, pay $80 resale fee.
6. Pre-completion checklist
There are a couple of miscellaneous todo before the final completion appointment:
HDB will send a personnel for an inspection (I have nothing illegal done up so just 5 min)
terminate any GIRO payment
ensure the property tax is paid for the year (they will be pro-rated later)
ensure service & conservancy charges is paid up to the completion appointment
Not to worry. You will be advised by your lawyers on all matters to ensure a smooth completion.
7. HDB completion appointment
The buyer has to prepare the cashier order (eg. to pay CPF) as advised by the lawyer. This must be done a few days prior to the appointment.
Cashier order cost $5 for POSB/DBS, regardless of the amount.
HDB completion appointment is usually in the afternoon, where the buyer lawyer, seller lawyer, banks, CPF and HDB will sort out the monies. You need NOT attend. The lawyers represent the buyer and seller.
Buyer and seller will meet the lawyers only after they finish thrashing it out, to collect some stuff.
Buyer will receive the keys and some HDB document
Seller will receive some documents (for reference), and the cheque for the cash proceeds!
I might write how much I "earn" from selling my HDB in another blog post, as a reference. Hint: A lot goes back to CPF.
UPDATE: I have wrote about it.
Differences vs condo
The process is slightly different between HDB and Condo. I bought a condo shortly after I sell the HDB (you may go ahead and buy another property once the HDB OTP is exercised).
The main differences are:
Condo option fee is 1%, exercise fee is 4%, so total 5% cash (HDB is minimally $2)
Bank loan can be accepted after you exercise the OTP
No web portal like HDB!
---
Related:
---