I was curious of a hive-like structure hanging on the tree just outside my windows.
So using my 150mm superzoom len, I took a shot to have a better look.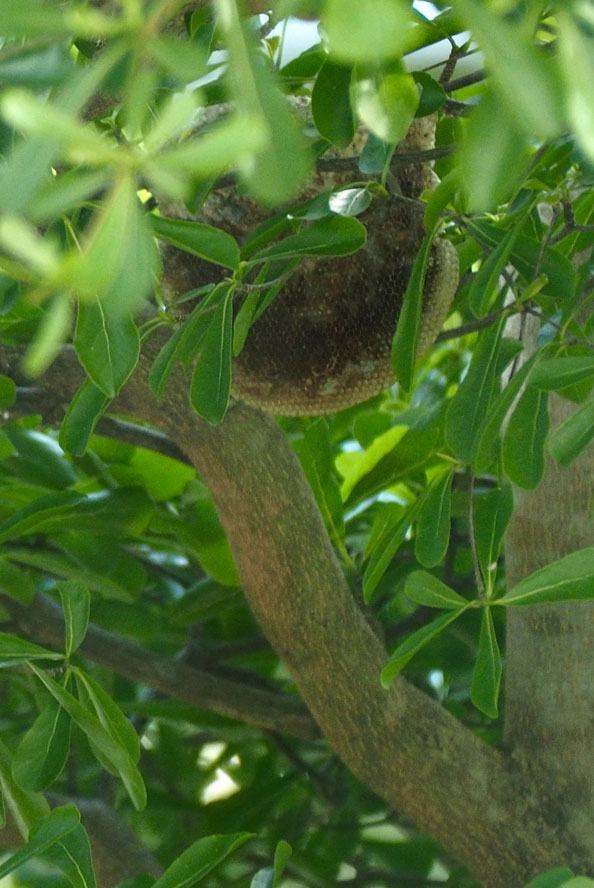 It seems to an empty bee hive.
So while walking my baby in the garden, I open my eyes attentively, watching out for any bees.
Then I sighted a bee hive on another tree!
And here's a video as hundreds of them wiggled around the honeycomb.
Calling Town Council
My immediate response is to call the town council.
It is for our safety.
Or would they?
Bees will not attack human, unless they are disturbed.
Look at this amazing time-lapse of bees hatching, and the following video of how interesting they are. You might fall in love with them.
I also discovered a service to "rescue" these bees. Plan Bee is a movement in Singapore to relocate these bee hives, instead of simply terminating them.
Hmm but at a cost of $100-$300..
So, I choose to call town council, who will send their pest control to remove the bee hive.
PS: Just 2 weeks ago I blogged about my experience living on level 2 of a Singapore HDB. Perhaps I could add on another sight I could see (:
---