I have heard many stories of Domestic Foreign Worker (aka maid/helper), but I thought if we treat a person well, we shouldn't face any issue.
How wrong and naive I was..
tldr: My Indonesian helper quit on me after 10 months; Found out she wants to change employer to get higher pay, and discovered she is seeing a boyfriend (she is already married)!
This long post will recount the horrible things she did since she joined our family, and our thoughts towards agencies and maids in general.
She ran away on day 14
Merely 14 days after working with us, on one fine Sunday morning, she is no where to be found at home.
That Sunday we searched high and low, and eventually went to the police. We were so worried she could have done something stupid.
She came back at 8pm, with a pack of lies on how she lost her way.
We could not trust her and so we sent her back to the agency that night.
But we gave her a chance
But 3 days later, we went back to the agency, and gave her a chance.
This is largely on the account of our baby, because we think she likes our baby and has taken adequate care of her.
And partly we are afraid getting another maid could have worse problems.
Now, this looks like a bad decision.
Quitting on us
All seems to be good for the next 9 months, until last week, when one fine morning we woke up and were greeted by her, and her bag.
She has packed up, and all she said is she wants to go back to Indonesia.
Why?
She gave an excuse, but we know the real reason.
Threatening us for off days
Our arrangement with her is to work without off days.
We do give her off (paid leave in fact) when she requested for it eg. Hari Raya
But few days ago, she made a demanding request: She wants 2 days off per month, if not, she wants to change employer.
Reminder to all: If you ever want to make request, do it politely, not with threats.
That day, we decided we need to replace her.
But we agreed to her request, because we need her to work during the time being.
Yet she has already planned to quit, no matter what our answer is.
The real reason why she quit
When we sent her back to the agency, we took back the phone we gave her.
From her deleted messages, I think we found out the real reasons.
She had talked to another Singapore agency, who told her she will earn $600/mth, with day off every week! She just need to pay 1 month of her salary to the agency.
I suppose she has been tricked by the agency.
This is the despicable agency: Universal Employment Agency @ Lucky Plaza
And her boyfriend!
While my maid is married, she has been flirting with a guy.
On her day off on Hari Raya, she lied to us that she is going out with 2 other maids working for our neighbours. The lie was exposed when we confronted the other maids later. She was out with a guy.
Apparently they are meeting the following weekend.
No wonder she wants the off that urgently!
This is very upsetting because we trust her so much. We gave her a smartphone so that she can message her husband.
She has been calling and messaging a lot, but I think it is to her boyfriend in Singapore!
Agency always win, Employer always lose
Now let's turn to our maid agency.
Since this incident, I have understood better how a maid agency works. In short:
The business model of a maid agency is that it will always win.
If agency find a maid for you, the agency earn around $2,000.
If a maid quits on you, they will find another employer for the maid, and they earn additional $1,000!
Yes, if a maid quit, agency earn more! Hence, would they rather maid quit?
That's why (I suspect), the turnover of maids is so damn high.
If only we could change the business model eg. fine the agency/maid for not maintaining the contract.
Home Sweet Home - Review
We didn't have a good experience with this agency.
There were 2 instances where they were clearly trying to cheat us.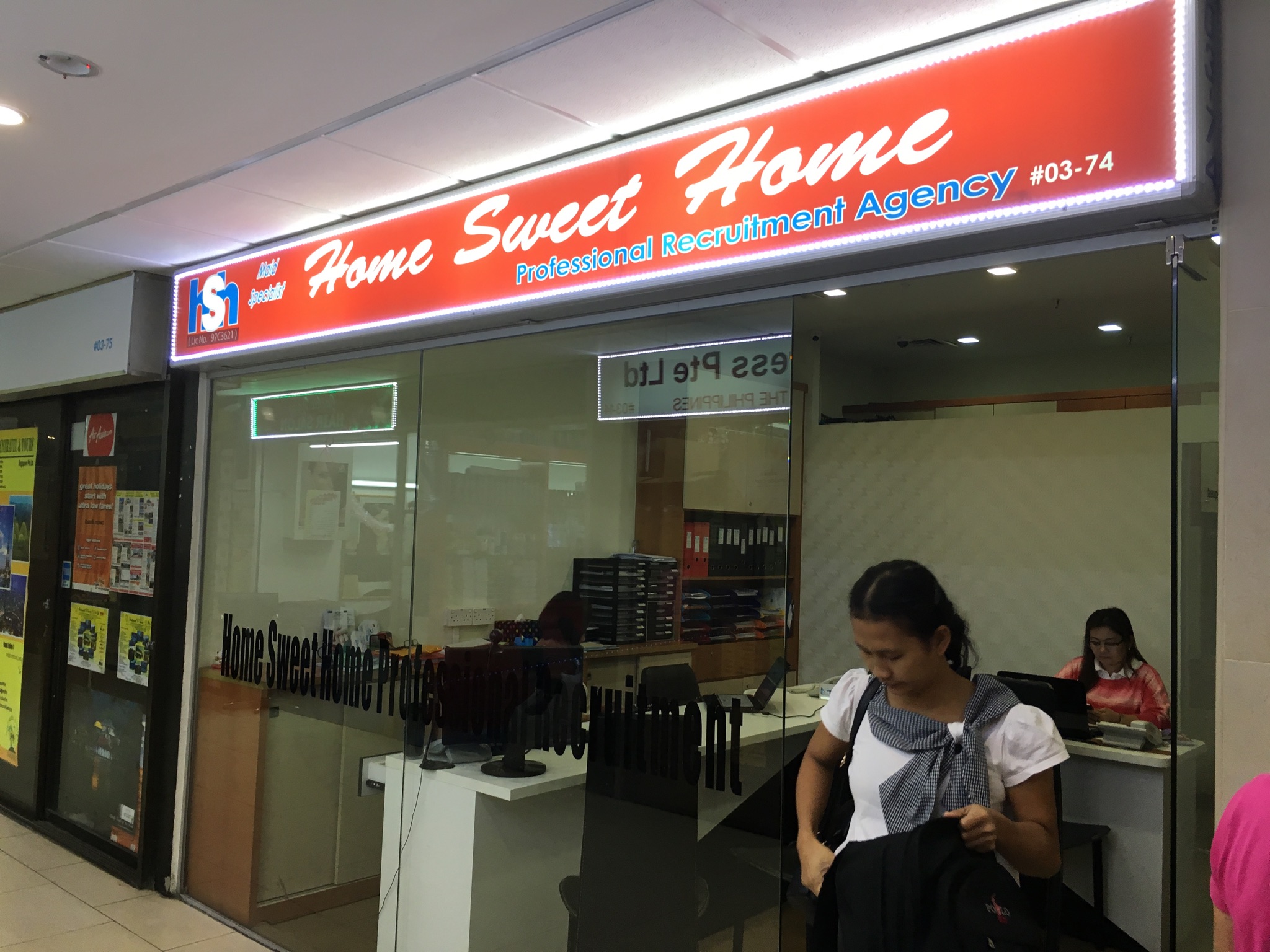 1. Replacement Fee
They quoted us $1,000+ to get a new Indonesian maid to work for us. But when we asked for a transfer maid - a ready maid who is already in Singapore - they said our package don't allow that; we can only get a new maid from Indonesia.
I explained their business model, saying that they don't lose from assigning us a transfer maid, so why not?
They could not fight logic, and so the boss finally gave in.
Oh, and before they gave in, the agent did the sale technique of calling her boss, and gave us a "discount" of $100 for the replacement.
Clearly they are dishonest.
In other agency, a replacement will be merely $600.
2. Lodging Fee
They did not mention about the lodging fee when we bring the maid to the agency.
When our maid did not want to find a new employer, we were told to pay $20/day for the lodging. For 7 days, that is $140.
We were already very suspicious on whatever the agency said, and so we look up our contract. Found out it is $15/day! This is definitely a way for them to squeeze a few more dollars out of customers.
What's more, we realized other agencies charge $10/day!
In retrospect, we should have just book a flight and sent her back right away, because:
if the maid did not want to find another employer, then it is no point paying for the cost of the boarding house
the cost of flight + runner could be less than lodging fee + your time
especially so if you are not going to find a replacement fom the same agency
Possible Conspiracies
There are many events that make us doubt the integrity of Home Sweet Home.
But I have no proof, so I will just classify them under possible conspiracies:
My agent always try to avoid explanations.
My agent is always conveniently not around during important times.
There is a whole episode on the maid escaping from the boarding house to MOM. The agent brushed off any explanation by saying it was late when she fetched her from MOM, and so she didn't ask for details.
Could the agency have a part in making her quit, so that she can go back and use another agency?
Way before we hire this maid, we almost hire another, whom failed her medical exam (high blood pressure) in Singapore. In the first place, did she pass her medical exam in Indonesia?
When the maid failed her medical exam, the agency never inform us right away. Instead, they make her eat medicine to lower her blood pressure, then try to take the examination again. That wasted us 2 months.
Home Sweet Home is an agency that we cannot trust.
How should you choose an agency?
We chose Home Sweet Home because they have lots of biodata of maids available, even during Hari Raya period.
It was a wrong criteria to choose an agency.
Now that we have the experience, we should have selected base on:
track record,
location, and
sincerity of the agent.
We can find out the transfer and retention record from MOM. This is useful to know the performance of the agency.

Location is another factor. Choosing a nearby agency is much more convenient. When in need of consultancy, we could just bring the maid over and let them "teach".
Lastly, we should also base our judgement on how sincere the agent is.
Are they saying things just to earn our money? Or are they seriously finding the kind of maid we want? This is not easy. It is as hard as interviewing maids over a video conference.
Mostly it is feelings and intuition.
How should we treat maid?
My philosophy towards maid is to treat her like part of familiy.
We celebrate her birthday, give her ang bao for Chinese New Year and Hari Raya.
In her agreement to work with us, she has no handphone and no days off. But when she asked for handphone, we thought it is only humane to let her call and SMS back home. We give her one of our smartphone, and even give her the first calling card.
But we are disappointed that she is not grateful.
I am not saying that we should not treat maid nicely. But I think we need to be more strict in many aspects.
Like parenting, I suppose the only way to raise a good maid is to be both demanding and warm.
---