We went to 林俊杰圣所演唱会新加坡站, and for some dumb luck, we got seats in Cat 1, row 2, just behind JJ's VVIPs.
How Cat 1 feels like?
This is my first to buy a Cat 1 ticket, at $348! In 2013 we went JJ concert too, we got a Cat 3. The question is:
Is Cat 1 worth it?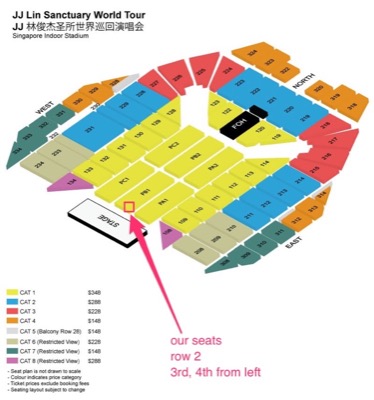 For our case, at row 2 center section, it is very worth it. A very unique experience. Feels like JJ is singing to you.
He looks at you some times (or so we think). Or perhaps he is looking for his VVIP. And you could see his face clearly.
Kind of feels like a performance just for you.
A shortfall is that you don't get to experience the intended lighting effects and the overall stage effect.
You also can't see the screens at the side. So it is a concern if you want to sing along, and need the provided lyrics.
Not all seats are equal
Cat 1 is worth the price, but I think there is no need to pay to that extend all the time.
Different sections have different ways to enjoy the concert. You get to experience from different perspective.
But for the same price paid, some are definitely better than others.
1st row is best value. Given Cat 1 last row vs Cat 2 first row, I will take the Cat 2 every time.
If seats are un-elevated (the Cat 1 premiere area), then the last few row is not so good value.
Sportshub Tips
JJ Lin's 2018 Sanctuary World Tour is a super sold out concert. Initially there are 2 nights show, but they doubled to 4 nights due to overwhelming demand, then added more seats.
I tried purchasing at every opportunity, but was never lucky. Always at the "queue", but never the chance to select seats.
Carousell has many scalpers, but I hate extortions.
Then how I managed to buy Cat 1, row 2?
We learnt of this tip:
Sportshub ticketing could still release tickets, even up to the last day.
My best guess is that some organization/media/VIP are allocated seats, but they could not turn up, hence the production company (eg. UnusualEntertainment) release back the tickets.
People like us (to be exact, my wife) is lucky to refresh the Sportshub webpage at the right time..

We bought 2 tickets at 1pm, 6 hours before the concert!
For JJ fans
Here are some of the videos to share, which I took with my Concert Camera app:
I made a mistake in the last video, probably a little drowsy while editing the videos. I wrote 等你到天黑 when it should be 她说. But I am not correcting the mistake, because, let that be a happy little accident.
---